Food / Drink / Facilities
Restaurant on site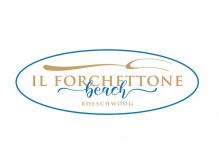 PLEASE NOTE: from 10 September to 3 October 2023 inclusive, the restaurant will only be open saturdays and sundays from 11am to 9pm for takeaway sales.
IL FORCHETTONE BEACH
New restaurant owner, new menu
Breakfasts, starters, snacking, pizzas, pastas, meat, fish, salads, desserts, drinks
Facebook page Il Forchettone Beach - Roeschwoog
Open Tuesday to Sunday from 8am to 9.30pm and on Monday public holidays (if open on Monday, closed on Tuesday).
Groceries

The campsite reception provides campers with a small grocery shop containing a few dry food products and hygienic products (pasta, rice, soup, soft drinks, toothbrushes, small cakes, tins, oil, etc.).
Open from 10am to 12pm and from 2pm to 7pm.
Near the campsite, in the village
Shops
BOUCHERIE CHARCUTERIE ETWEIN (Butchers)
61, rue de la Gare
BOULANGERIE PATISSERIE COMELLI ET HEBBEL (Bakery/Patisserie)
30, rue de la Gare
BOULANGERIE PATISSERIE RIEGER (Bakery/Patisserie)
19, rue de Fort Louis
LES SAVEURS DU POTAGER (vegetable and fruit shop)
Parc d'Activité de L'Uffried Nord
Restaurants in Roeschwoog

The restaurant guide of the Rhineland (2023-2024 edition) can be found in digital or paper version at the campsite and in the Tourist Offices of the Rhineland.
HOTEL - RESTAURANT "AU LION D'OR"
1, rue de Fort Louis
Tel: 03 88 86 41 12
2, rue de Fort Louis
Tel: 03 88 86 26 22 - Fax: 03 88 53 05 28
Welcoming atmosphere in a traditional Alsatian setting. Tartes flambées, daily specials and full menu.
66, rue de la Gare
Tel: 03 88 06 92 13
Restaurants within 4km
FORT-LOUIS
Le Relais du Fort by Casa Rosusago
12 Rue Saint-Louis, 67480 Fort-Louis
Tél : 09 86 34 46 61

Chez Laura & Cyril - Domaine S'Rhinfischel
7 Route du Rhin, 67480 Fort-Louis
Tél : 03 88 73 29 68
NEUHAEUSEL
Hostellerie du Cerf Blanc
16 place du Général De Gaulle, 67480 Neuhaeusel
Tél : 03 88 86 41 60
Ecurie du Rhin
33A Rue des Roses, 67480 Neuhaeusel
Tél : 03 88 86 40 64
ROUNTZENHEIM-AUENHEIM
Restaurant au Tisonnier
8 Rue de Soufflenheim, 67480 Rountzenheim-Auenheim
Tél : 03 88 86 32 25


Tonis Pizza Express
à l'arrière de l' Ebénisterie Lehman, 37 Rue de Soufflenheim, 67480 Rountzenheim-Auenheim
Tél : 09 79 07 43 19

ROPPENHEIM
Au Le Poulailler - Auberge à la ferme
7 Rue des Bergers, 67480 Roppenheim
Tél : 03 88 86 32 53
SOUFFLENHEIM
La Taverne des Potiers
2 Rue de Drusenheim, 67620 Soufflenheim
Tél : 03 88 09 99 44